The Council of World Elders
The Council of World Elders is a unification of the best representatives of native tribes, who practice and teach their ancient traditional wisdom for world peace and the healing of our planet.
The members are extraordinarily renowned personalities, who dedicate their lives to the expansion of consciousness of humanity, regeneration of nature and to an integral and conscious treatment of life on Earth.
---
Foundation and Head Office
The Council of World Elders was founded in 2009 by Karin Tag. The Head Office is located in Niddatal near Frankfurt/ Main, Germany.
---
Aims of the Council of World Elders
The aims of the Council of World Elders are:

– Platform for messages to the nations, international congresses, lectures, annuals, films and publications
– Support for non-profitable local and global projects
– Conservation, building and reactivation of power places and cultural monuments
– Unification of nations and tribes, understanding among nations
– Support for the protection of the environment
– Workshops, expansion of consciousness
– Meetings for global peace
– Ethnological Museum of extraordinarily precious arts, sacred objects and library for teachings of wisdom, ancient wisdom and tradition, and investigation for the transmission of knowledge and practical exercise
---
Peace Feather Awards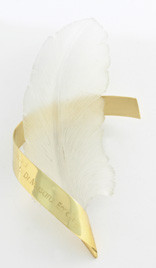 Peace Feather
25th October 2010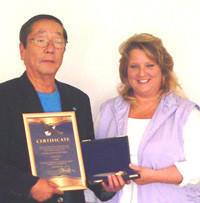 Dr. Emoto and Karin Tag
Dr. Emoto has received the Peace Feather from the Council of World Elders for his excellent water researches.



24th September 2011



Lex van Someren has received the Peace Feather from the Council of World Elders for his extraordinary artistic and musical performance to support mother earth.
"As a musician and shamanistic artist I feel deeply connected with the aims and projects of the Council of World Elders, as my own visions and art projects on stage also have the intention to encourage the distribution of a New Consciousness all around the world."