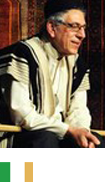 Reza Maschajechi, Iran
Reza Maschajechi represents the culture of Iran. He is storyteller and reciter with a great love for Persian literature and poetry. For many years Reza Maschajechi engages himself intensively with 'Rumi's mystcial love'. Maulana Dschalaladdin Rumi is the most famous poet of the Persian-Islamic Mystic.

Poets have a great status in Persia, comparable to composers in Europe. Rumi's poetry are mystical texts not to be understood logically but by engaging heart and soul.