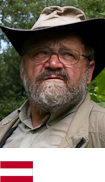 Sepp Holzer, Austria
Sepp Holzer has pioneered the use of ecological farming and Permaculture throughout the world. He began farming this way in Austria in the 1960's after being unsuccessful with conventional agriculture methods. He is known as the "rebel farmer" because he persisted in these practices despite being fined and even threatened with prison. His "Krameterhoff" farm in the Austrian Alps (in 1.400 metres above sea level) receives thousands of students and visitors each year.

In addition to farming, animal husbandry, fruit growing, aquaculture, horticulture, and agroforestry, Sepp Holzer works to regenerate and remediate damaged landscapes. This includes building terraces, raised beds, water gardens, soil reservoirs, and ponds in order to create complex ecosystems and microclimates.

He is very sucessful worldwide. Among the countries that brought Sepp Holzer as an expert into their country, is counting Kenya, Kazakhstan, Russia, Siberia, Thailand, USA (Detroit and Montana), Colombia and Ecuador, Denmark, Scotland, Austria, Spain and Portugal. He is a specialist in transforming a desert into a productive and fruitful paradise.