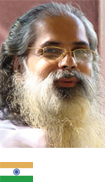 Swami Isa, India
Swami Isa was born in India in 1956, founder of the Global Energy Parliament and of the aid organization "Isa Viswa Prajnana Trust", realized yogi.

"Seva (social service) means first one must renounce, then do one's duty. What is renouncing? Being able to see God everywhere. That is the true beginning of selfless service." – Swami Isa

In 1998 Swami Isa first established a school, promoting a new educational concept. This integral concept has been discussed on several educational conferences on international level. Until today it has been adopted by numerous educational institutions in India.

In 2000, Swami Isa founded the "Isa Viswa Prajnana Trust" (IVPT) as a non-profit charitable organization to render services to society and for people in need.

Some of the social service activities of the Trust are:

Medical Camps:

For those who do not have access to healthcare, diseases can be life threatening. The medical camps provide medical services and care for the control of the most common diseases which affect the community members. They offer health-care programmes, including regular health check-ups, medical aid during the wet season, "Health Awareness Classes" for the resolution and prevention, as well as programmes to promote medical treatment with indigenous healing plants and herbs.

Technology Awareness Camps:

Due to poverty or other social handicaps, many children in the community are unable to gain access to higher education, especially in modern technologies. The free "Technology Awareness Camps" give these needy children an opportunity to learn and work with computers and other technology.

Assistance to the Disadvantaged:

The service for mankind is the highest responsibility for humans. For that reason Swami Isa supports children, elderly, sick, impoverished and otherwise needy persons in an ethical and financial way.

In 2000 Swami Isa established the Global Energy Parliament (GEP), an international board of scholars, scientists, professionals and leaders of public opinion, whose aim is to create conditions for the peaceful existence of human beings and the planet, based on a more comprehensive understanding of the nature of energy. The 1st Congress of the GEP took place in Trivandrum, southern India in 2010.