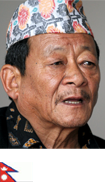 Mohan Rai, Nepal
Mohan Rai (born in 1928, passed away February 22 2016)

He is the Founder and Director of the Shamanistic Studies and Research Centre of Kathmandu, Nepal.

He is a central personality of the shamanistic culture of the Himalayan. He cooperates with a group of healers of different tribes and regions. By means of his unconditional engagement the Nepalese healers and their traditional tribes get more governmental acceptance and support as an effective way of health and healing.

Mohan Rai belongs to the Mongolian people of the Rai respectively the Kirati. His father was an important shaman of the Kiratis, a personal shaman of the king of Bhutan.

Mohan Rai speaks more than 10 languages. He wrote several books, which have been published in different languages and produced a CD about the Nepalese shamanism.