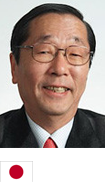 Dr. Masaru Emoto, Japan
Dr. Masaru Emoto (born 22 July 1943, died 17 October 2014)

Honorary member of the Council of World Elders, recipient of the Peace Feather Award of the Council of World Elders for his life's work for his research into the hidden messages in water.

Masaru Emoto was born in Yokohama, Japan. He was a graduate of the Yokohama Municipal University's department of Humanities and Sciences with focus on International Relations. In 1986 he founded the IHM Corporation in Tokyo. In October of 1992 he received his Doctorate for Alternative Medicine from the Open International University. In the years to follow he was introduced in the US to the concept of micro clusters of water and into magnetic resonance analysis technology. Thus his quest to discover the mystery of water began.

He undertook extensive research into water on our planet not so much from a scientific point of view but more from the perspective of a thinker with an original mind. He discovered that it was in the frozen crystal form that water showed us its truest nature. He has gained worldwide acclaim for his pioneering research and discovery that water is deeply connected to our individual and collective consciousness.

Dr. Emoto is the author of many best-selling books, among them 'Messages from Water', 'The Hidden Messages in Water', 'Water Crystals' and 'The True Power of Water'. With his photographs of water crystals he has impressed millions. They proved that thoughts and words have a direct influence on the form of water crystals and consequently on the human body which as we know consists mainly of water and thus on basically everything that exists. He made visible the energetic correlation between the power of thought and form in matter and thus became an important teacher for many people.

Through his world-wide prayers for peace held by the sea, near rivers and lakes, Dr. Emote gave us a demonstration of love and gratitude. He dedicated his entire life to the healing of this planet and to world peace. Due to his untiring efforts he often went beyond his own personal limits. He set examples for all people regardless of age and culture.

We would like to express our gratitude to Dr. Masaru Emoto for his magnanimous co-operation, his support and his longstanding honorary membership of the Council of World Elders. He was one of the great peace makers of our age.