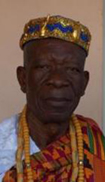 His Majesty King Agokoli IV
King Togbui Agboli Agokoli IV is king of the kingdom of Notsé in the Republic of Togo, Africa. Notsé is the kingdom of the ethnic tribe of the Ewes.
King Agokoli IV is President of the 'Togo National House of Chiefs' (UCTT) and thus the head of 15 chiefs in that region. He sees his main task in encouraging the chiefs and the people of that region in Western Africa to honour and preserve their cultural inheritance for themselves and for those to come. Through regular meetings he promotes a cultural and social unity and a sense of belonging among the various smaller groups of the tribe.
One of his foci are projects for women.

Being the oldest member of the National Human Rights Commission of Togo (CNDH) and representative of the Community of National Human Rights Institutions, King Togbui Agboli Agokoli IV seeks solutions to guarantee and guard the rights of the African people.

He is also a member of the commission 'Truth, Justice and Reconciliation'. This commission which had been supported in its initial phase by the UN Commissioner for Human Rights has been established to uncover the truths about political violence in Togo from 1959 till today. Its task is not to condemn but to take stock of what happened and to make compensations to the victims. Thus the commission contributes to inner peace, to political and social stability as well as to reconciliation on a national level.

King Togbui Agboli Agokoli IV became an honorary member of the Council of Word Elders in July 2014.