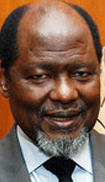 Joaquim Alberto Chissano
1986 to 2005 President of Mozambique, Africa

In 1992, Mozambique's civil war came to an end, after 15 years of devastation, and more than a million casualties. The country was completely broken, and showing all signs of being trapped in the cycle of conflict and corruption which has afflicted many African countries. But Joachim Chissano – whose forces had won the war – surprised the world by acting sensibly and empathetically. Rather than enacting revenge, Chissano treated the rebel forces who had been trying to overthrow his government with respect.

In 1994, it became a requirement for all military and police recruits to meditate twice a day, for 20 minutes. Chissano himself is in no doubt that this collective meditation was responsible for the peace and increasing prosperity of the country. As he said, 'The result has been political peace and balance in nature in my country… The culture of war has to be replaced by the culture of peace. For that purpose, something deeper has to be changed in our mind and in our consciousness to prevent the recurrence of war.'

Between 1997 and 2003, almost three million people were rescued from extreme poverty, out of a total population of almost 20 million. This lead to a 35% decrease in the number of children dying under the age of five, and an increase of 65% in the number of children going to primary school. Through Chissano's ability to set aside differences and connect with his former enemies, Mozambique was brought back from the brink of self-destruction and has instead become one of Africa's most stable and peaceful countries (Extracts from an article by Steve Taylor, Leeds Metropolitan University).

Since April 2013 Joaquim Alberto Chissano is an Honorary Member and Global Advisor of the Council of Elders.