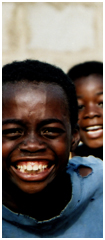 The Building of a Bridge in Ghana: Help for Children in Africa
In her humanitarian efforts for children in Africa, Karin Tag supported the building of a bridge in Africa.

In collaboration with His Majesty Chepás Bansah, King of Hohoe Gbi Traditional Ghana, a bridge is being built here to facilitate the supply of the village of Kpoeta with medicines and other necessary commodities. This bridge is vital for a secure crossing of a river which several times a year turns into raging waters, housing even dangerous animals. Especially the children in Hohoe benefit from this bridge, giving them a safe and shorter walk to school. Karin Tag finances this bridge from her own budget. First pictures document this month the start of this enormous project. More projects are to follow, e.g. a well with clean water.