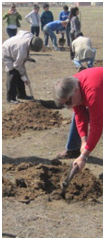 Reafforestation-Project Mongolia: "Plantation 1 million trees"
Durch illegale Abholzungen der Bäume gibt es in der Mongolei nur noch wenige Wälder. Um dem Raubbau und der damit verbundenen Versteppung und Austrocknung der Mongolei entgegenzuwirken, ist das Projekt der Wiederaufforstung in der Mongolei ein wichtiger Beitrag zur Erneuerung der Natur. Der Council of World Elders unterstützt das Projekt zur Pflanzung von 1 Million Bäumen in der Mongolei.

Durch ihre finanzielle Hilfe unterstützte Karin Tag als eine der Sponsoren den Stammesführer der Tuwa, gleichzeitig Member des Council of World Elders, bei seinem Vorhaben, eine Millionen Bäume zu pflanzen. Über 300.000 Bäume wurden bis Ende 2012 bereits gepflanzt.