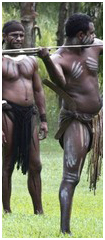 How can I help?
1. Please write a letter to the Minister of Australia.
Please download and print out the attached sample letter (Word).
Alternatively you can copy and paste the contents of the letter (see under FAQ). You may have to adjust the colour to 'black'.

Operation 'Help the Australian Aboriginals' sample letter
Operation 'Help the Australian Aborigina
Microsoft Word Dokument [24.0 KB]
Download
---
---
FAQ
Will my letter have any effect?
Yes. In the past such letters have shown repeatedly that governments react positively. Politics were changed and lives saved.

Why should the letter be in German?
Letters written in a different language show that people from all over the world care for the indigenous peoples. It impresses. Our experience shows that due to keywords the letters are understood and even answered.

How should I send my letter, fax, e-mail, or through the post office?
Letters sent through the post office show best results. If there is a realistic chance, we sometimes pass on e-mail addresses or fax numbers. But e-mail addresses change and fax machines can be cut off. If possible please use the post office.

What does the sample letter say?
Your name
and address
The Hon Julia Gillard MP
Prime Minister
Parliament House
CANBERRA ACT 2600
Australia
(date)
Dear Madam,
I am very concerned that the Aboriginals in a prosperous country like Australia still suffer extreme health problems and social discrimination.
Only if the Aboriginal tribes can regain control over their lives and their habitat, chronical problems like lower life expectancy and high mortality rate of their children can be resolved.
The answer is not to cut their rights concerning their lives and the life in their communities but to grant them more participation and influence in all matters concerning their future.
Yours sincerely,
---